Forget The Cheats And Focus On The Double
Match Review: Arsenal 0 Barcelona 2 - Champions League 23.02.2016
As the the sun rises in the morning and sets in the evening, so the Champions League journey ends in the last sixteen for Arsenal. Scrape through the group stages, draw a difficult opponent, get our hopes up, cede an unassailable advantage to the opposition in the home leg and then valiantly fail in the away leg. Rinse and repeat. I'm not angry at all about it this season, I'm more of the opinion that we can now focus on the league and the cup which we have excellent chances in. The Champions League was always going to be a long shot, it's just frustrating and a little boring to watch the same script play out every year.
The usual first team returned for this game, with Chamberlain taking the one place that was up for grabs on the right wing. As expected, both teams were cautious to begin with, but in my opinion Arsenal were much the better team for the first 40-odd minutes. The team looked well organised and frustrated Barcelona effectively despite the referee's attempts to make every tackle a foul. The official, Cüneyt Çakir, has two too many letters in his first name methinks.
Alas, while we were solid at the back, our profligacy in front of goal was maddening. Chamberlain continues to inspire feelings of violence within Arsenal fans as he once again showed flashes of why Wenger still tries to use him in the team and also flashes of what's holding him back from being a good player for us. There were moments of excellent direct running and then moments like taking a heavy touch on a counter attack and then injuring himself in a tackle with Mascherano. But the crowning glory of his night was helping create a wonderful chance for himself, collecting the rebound from Bellerin's effort, shifting the ball out from under his feet and then completely scuffing his effort straight at Ter Stegen from ten yards out. That is the Ox in a nutshell.
As the half wore on and the players tired, we started struggling to contain the Spanish giants and half time came to the rescue at exactly the right time. Barca were slicing us open in the final few minutes of the half and I reckon if they'd had two or three minutes longer, they'd have scored. The Chamberlain chance began to look more and more important, as Barca began the second half in similarly dominant fashion.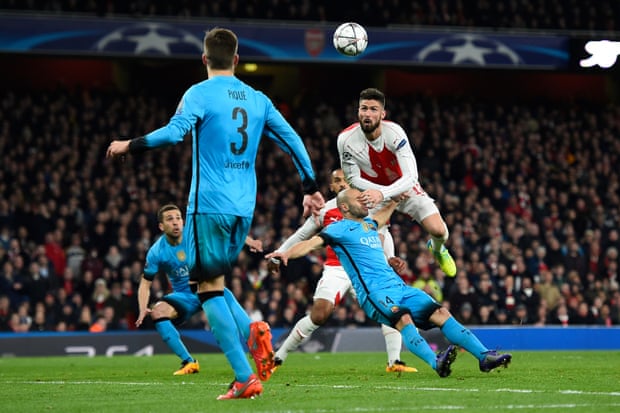 The first 10 to 15 minutes was all Barca and Cech had to be on hand to make a good save from Neymar, while other Barca attacks were thwarted by some last ditch defending. But we managed to ride that period of pressure out and I thought the game was very even from that point. We evened another excellent opportunity as Ter Stegen made an excellent save to deny Giroud's header. I don't think there was much more Giroud could have done, it was a difficult header and Ter Stegen just about got himself to it. It sparked a period of Arsenal pressure and attacking that looked as if it was going to lead to the opening goal. That, unfortunately, was our downfall.
We just threw too many men forward, we left ourselves exposed against the best attacking trio in world football and the result was the same as the many other times it's happened to us. The counter attack was swift and incisive, exactly what our attacks had lacked and it ended with Barca's main man caressing the ball home. Messi does not miss when you give him a routine chance in the penalty area.
After the all the hard work and effort the players had put in, it was a crushing blow. We had given ourselves a chance and even a 0-0 to take to Barca would have been something. The away goal meant we'd have to go there, get a goal and then not concede just to take it to extra time. I can only assume that Wenger decide to sack the competition off at that moment, as Coquelin seemed to pick up a knock and was replaced with… Flamini. As he jogged on, I was reminded of the Simpson's episode where Homer is being watched by his co-workers and Lenny whispers 'get ready guys, he's about to do something stupid…'. Huge credit to Flamini, he didn't hang around, 42 seconds after coming on, he felled Messi in the area and we were 2-0 down. Tie over.
Whilst I was impressed watching Barcelona and they're clearly an incredible team with incredible players, I have a hard time liking them. In fact I pretty vehemently dislike them. The football is sublime, but the way a large number of their players conduct themselves is nothing short of pathetic. Suarez, as we already knew, Neymar, Dani Alves, Jordi Alba, Busquets and even Messi at times, threw themselves to the ground at the very notion of contact and constantly surrounded the referee begging for decisions. Combine that with the way the club conducts itself over transfers other business and they're a pretty distasteful outfit. Hopefully in the return leg, Flamini can redeem himself by smashing a couple of the smug cheats.
Another year, another 'valiant effort from the boys'. They put in a hell of a shift, gave a great account of themselves, but ultimately were masters of their own downfall. There are only so many times you can watch the same thing happen over and over again until you have to say 'actually these glorious failures aren't good enough, learn from your mistakes'. Right now though, I think we can move on and focus on the positives. We did go toe to toe with one of the best sides in the world and we could have come away with a good result had we finished our chances. What's important now is that we keep our performance level as high as it was on Tuesday for the rest of the season. If we do that, we are in with a shout of bringing a double to the Emirates this year.
Teams
Arsenal (4-2-3-1)
Cech, Bellerin, Mertesacker, Koscielny, Monreal (Y), Coquelin (Flamini 82'), Ramsey, Chamberlain (Walcott 50'), Özil, Alexis, Giroud (Welbeck 72')
Subs
Ospina, Chambers, Gibbs, Flamini, Welbeck, Walcott, Campbell
Barcelona (4-3-3)
Ter Stegen, Alves, Pique (Y), Mascherano, Alba, Rakitic, Busquets, Iniesta, Messi, Suarez, Neymar
Subs
Bravo, Munir, Sergi Roberto, Vidal, Adriano, Matthieu, Vermaelen
Player Ratings
Cech - 8/10 - Made some cracking saves, just a shame it wasn't enough for us
Bellerin - 8/10 - Thought he dealt with the occasion brilliantly, Barca DNA…
Mertesacker - 7/10 - Getting stick, but neither of the goals were really his fault
Koscielny - 7/10 - Did a pretty decent job against the best player in the world
Monreal - 7/10 - Another that coped well with a fierce attacking trio
Coquelin - 7/10 - Showed why it's so important we keep him fit for the title race
Ramsey - 7/10 - Could have had an 8, but caught out of position for their first
Alexis - 7/10 - Signs of the old Alexis, but declined a bit in the second half
Özil - 8/10 - Not at all anonymous to intelligent football fans who actually watched the game
Chamberlain - 5/10 - Horror miss, then crocked himself
Giroud - 7/10 - Difficult ploughing a lone furrow, but worked really hard for the team
Subs
Walcott - 6/10 - Ineffective, I expect Welbeck to take the right wing spot against United
Welbeck - 7/10 - Looks hungry and makes things happen for us, great to have back
Flamini - -1000000000/10 - Out-Flaminied himself
http://twitter.com/sambangsdrums
Tell us what you think! If you agree, or have a different view, please leave a comment in the comments section or why not write a response or your own article on YouWrite?

Think you know Arsenal? Test your Arsenal knowledge on our trivia page and see if you can beat the top score.

Don't forget to like us on Facebook, add us to your G+ circle and follow us on Twitter.
Follow us
Follow our podcast
Tags: Champions League, Match Review, Match Report, Arsenal vs Barcelona, Cheats, Divers