9 years without a trophy, 21 years in our shadow, what power shift?
Match Review: Arsenal 4 Aston Villa 0 - Premier League 09.11.15
After all the negativity and the wailing and gnashing of teeth, it was quite a shock for the season to finish on such a hilariously positive note. There is no doubt that it's been a disappointing season for us, but we have to give a huge amount of thanks to Sp*rs. They managed to provide us with a reason to be cheerful despite all the troubles of the last few months. I'd like to personally congratulate them, no other team works as hard or shows such a great commitment to being a laughing stock as they do. Never change guys.
Wenger's final team of the season saw a few changes, with Jack Wilshere making his first and only start of the campaign on the right wing. I imagine this was a move to help Jack prove to Roy Hodgson that he was fit and ready to play in the Euros and the England manager clearly saw enough, as the midfielder has made the initial squad. Francis Coquelin returned to the lineup, while Santi Cazorla also returned for the first time since his injury at Norwich. Unfortunately Rosicky and Flamini failed to make one last appearance for the Gunners, as their careers at the club came to an end, but club captain Mikel Arteta was on the bench for his swan song.
Aston Villa actually put up a decent fight for most of the game. After conceding Giroud's header early on, the away side held firm until late on and even had a couple of decent chances to make life difficult for us. Thankfully from our point of view, a flurry of goals at the end made things comfortable, with Giroud completing his hat trick and Mikel Arteta thundering in what was eventually given as an own goal, but will be remembered as his last flourish in an Arsenal shirt.
Even though what was going on on the pitch was important, it was overshadowed by events as they developed at Newcastle. News of Newcastle's first and second goals brought decent cheers throughout the stadium, before the news of the red card and Lamela's goal seemed to dampen the spirits slightly. Surely an already relegated team with ten men can't hold on to a one goal lead against a team that had been pushing for the league title a few weeks ago? Never underestimate Sp*rs and their commitment to finishing below us. Not only did they fail to find an equaliser, they completely collapsed and contrived to concede THREE more goals! As news of each Newcastle goal reached the Emirates, the cheers got louder and louder, as did the choruses of 'Tottenham Hotspur, it's happened again!'.
Let's just take a moment to properly appreciate this Sp*rs collapse. When they lined up against West Brom, they were still well in the title race, not even considering the possibility of finishing below us given our title challenge was long dead. With West Brom, Chelsea, Southampton and Newcastle still to face, had Sp*rs taken maximum points, they would have finished just a point behind Leicester. So for them to draw against a very average West Brom side at home, stuff up a two goal lead in a must win game at Stamford Bridge, lose their final home game to Southampton after leading and then get thumped by four goals against an already relegated Newcastle side was a really sensational achievement.
Imagine having your absolute record season in the Premier League, the best your fans have seen in decades and still finishing below an underachieving Arsenal side. It's pretty hilarious. All the nonsense they've spouted all season about power shifts and taking over London and once again we've mugged them off. There are some who will claim that Sp*rs still had a more positive season and are the better team, but bollocks to that. We both played 38 games, we earned more points and finished above them. We had the better season and we were the better team, end of.
Don't forget that despite all this talk of Sp*rs being on the up and ready to surpass us, they've now gone nine years without winning anything and haven't finished above us for over 21 years. That's an era of complete, unrelenting domination that shows no signs of stopping. In the time since Sp*rs last won the FA Cup, we've won it seven times. In Arsene Wenger's time as manager, they've finished above every single other team in the league, apart from us. This is a very odd power shift if you ask me…
Away from the hilarity of St. Totteringham's day, it was also a sad day for three players coming to the end of their Arsenal careers. Tomas Rosicky, Mikel Arteta and Mathieu Flamini will all leave the club at the end of their contracts this summer and whilst this move was expected and necessary, it's always sad to see popular players leave.
Mikel Arteta was a godsend for us. Part of the epic trolly dash that followed the 8-2 at Old Trafford, Arteta quickly established himself as a leader in the side. He was a rock at the heart of our midfield and for three or so seasons, he was one of our most important players. Having help stabilise us, he was deservedly picked as club captain and by all accounts has excelled in the role, despite his limited playing time. Mikel has been brilliant for the club and his tears at the end of the match showed the club has definitely had a great impact on him. Wherever he goes to coach next (as long as its not Sp*rs), he will always be fondly remembered at the Emirates.
Tommy Rosicky sadly didn't get to take to the field one last time for us, but his contribution on the field has been sensational. Little Mozart never really got to fulfil his huge potential, but was still a brilliant player for us and even better, he had a penchant for sinking the Sp*rs. He gave us a 3-2 lead in the first of the 5-2s, robbed Danny Rose to score the second in 2014's cup win over them and, most memorably of all, scored an absolute screamer in the second minute at the shit hole to single handedly win the derby, again in 2014. His energy and class will be missed greatly.
Last but not least, Flamini has had a bit of a rollercoaster career at the Gunners. Initially he burst into the first team and ended up playing left back for a while, including in a 1-0 win away at Real Madrid. The following year he was part of a brilliant partnership with Cesc Fabregas that nearly ended with a league title. However, he refused a new contract and left on a free to AC Milan. Having been away for so long, we'd almost forgotten about him by the time he came back to train with us in 2013, but he proved a useful addition when we were short in midfield. While his performances have dropped off over the last couple of seasons, no-one can deny he's been a great servant to the club and even this season he gave us a brilliant game against Sp*rs in the Capital One Cup. Au Revoir Mathieu, now go and save the world!
Whilst it's been a trying season at times, it was great to end on such a high note and to be able to all band together as one to laugh at Sp*rs. However, the points total and the performances need improving next year. We might have finished second, but we were a long way off Leicester in the end and our collapse at the turn of the year was incredibly alarming. Still, there are many reasons to be positive and there do seem to be strong rumours that Arsene Wenger will be looking to make some big moves this summer. Hopefully he will do just that, ahead of what may be his last year at Arsenal. Winning the league would be the perfect way for him to bow out and I hope he gives himself every chance to do just that.
Try to enjoy the summer Gooners, we're the top team in London once again and we have the Euros to enjoy while we wait for the proper stuff to return! See you next year…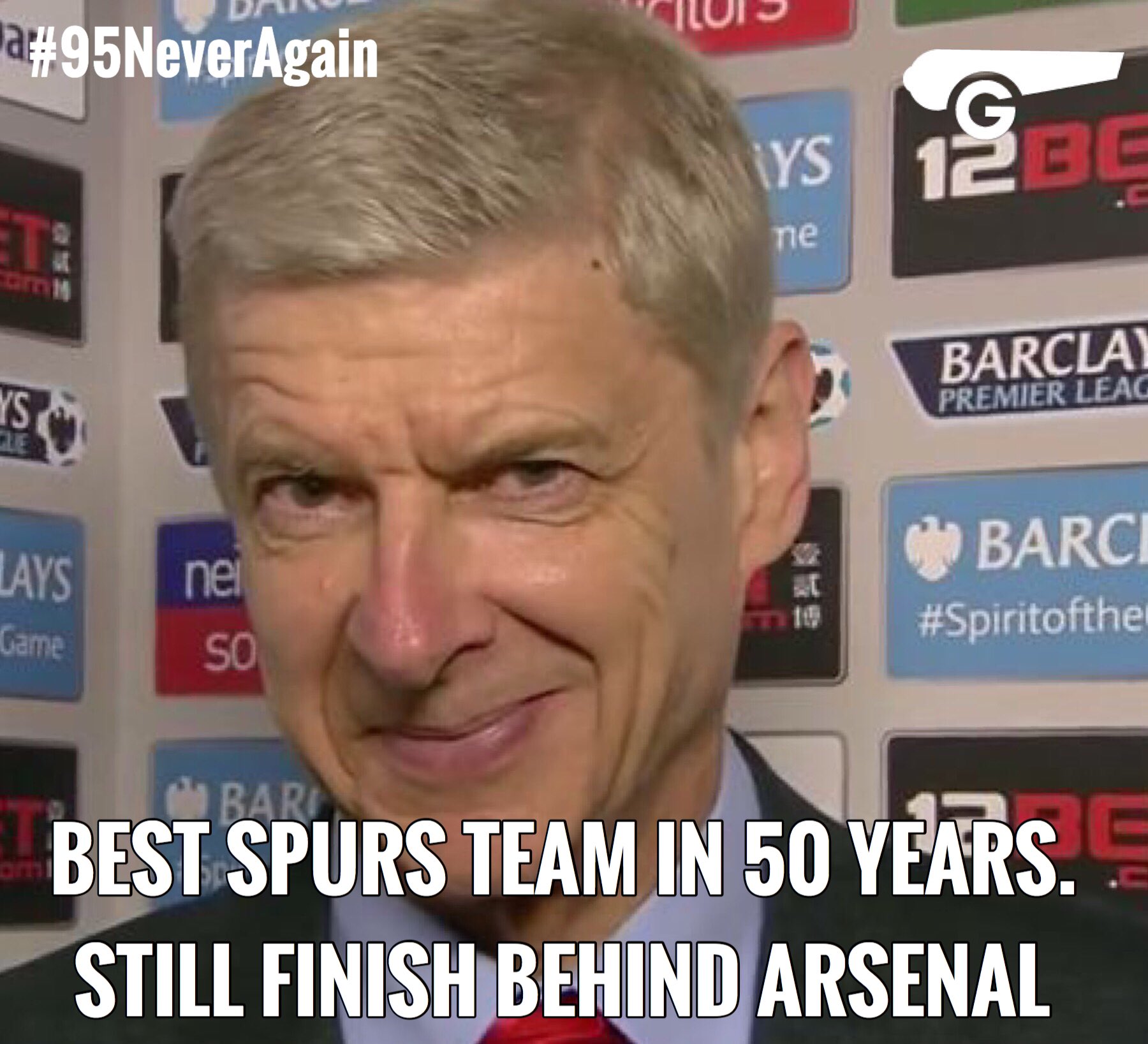 Teams
Arsenal (4-2-3-1)
Cech, Bellerin, Koscielny, Gabriel, Monreal, Coquelin, Cazorla (Campbell 88'), Wilshere (Elneny 69'), Özil (Arteta 88'), Alexis, Giroud
Subs
Ospina, Gibbs, Ramsey, Arteta, Campbell, Elneny, Iwobi
Aston Villa (5-3-2)
Bunn, Lyden (Grealish 75'), Bacuna, Lescott (Richards 65'), Toner, Cissokho, Westwood, Sanchez (Y), Gueye, Sinclair, Ayew
Subs
Guzan, Traore, Gil, Hepburn-Murphy, Gestede, Grealish, Richards
Player Ratings
Cech - 7/10 - Had very little to do
Bellerin - 8/10 - Lovely assist for Giroud's hat-trick
Koscielny - 7/10 - Had a relatively untroubled game
Gabriel - 7/10 - Had one slip-up, but solid apart from that
Monreal - 7/10 - A good finish to a good season for him
Coquelin - 7/10 - Did a good job, but may have competition from Xhaka next season
Cazorla - 8/10 - Looked like he'd never been away, a top class showing
Wilshere - 7/10 - Still looked a little rusty at times, but it was an encouraging performance
Özil - 8/10 - Shame he didn't get the assist record, but put in an excellent last performance
Alexis - 7/10 - Did everything he could to score, but it wasn't to be
Giroud - 9/10 - A lovely way to end the season after the criticism he's received
http://twitter.com/sambangsdrums
Tell us what you think! If you agree, or have a different view, please leave a comment in the comments section or why not write a response or your own article on YouWrite?

Think you know Arsenal? Test your Arsenal knowledge on our trivia page and see if you can beat the top score.

Don't forget to like us on Facebook, add us to your G+ circle and follow us on Twitter.
Follow us
Follow our podcast
Tags: Match Review, Match Report, St Totteringham's Day, Second Place, Arsenal vs Aston Villa, 2nd place, Giroud hat trick, Özil assists record